A Roaring Success for Damascus!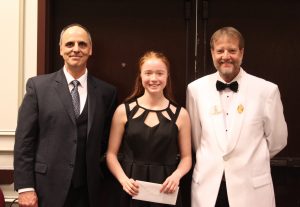 We had a delightful group of Lions attend the 73rd annual 22-C Social at the Comfort Inn & Conference Center in Bowie on Saturday, April 21st. The following delegation represented the Damascus Club: Lions Mary Frances Gosnell, Sue Suddath, Chris Fletcher, Jenny Redifer-Allen, Barbara Barry, Tony Barry, Martin Carr, Marcia Holpuch and our newest member, Vahe Aghamalian. Lion Sue was our club Unsung Hero and her photo and smiling face was included in the video loop of heroes that ran through the beginning of the evening.
The program began with entertainment by the District 22-C Honor Band and the awarding of scholarships. We had a scholarship winner from Damascus this year. Sarah Bowers, an oboe player, won $750. There were 5 scholarships presented this year with a total value of $7,500.
The Humanitarian Award Recipient was Heroes, Inc. They are an organization dedicated to assisting the families of police, fire and first responders, beginning within 24 hours and continuing indefinitely following a loss of life in the line of duty.
The keynote speaker was Past International Director Robert Littlefield of Moorehead, MN. He was a captivating speaker, reminding us that "We haven't come this far to come this far", meaning that while the Lions have done great work, there is still much to be done.
New at the meeting this year was the presentation of District 22-C awards and recognitions. This has been done at the MD-22 convention in years past, but the District Governor chose to move those presentations to the Social where there are more members from the district in attendance. The first awards presented were the Honor Roll awards. This year, there were ten nominations and 5 awards presented. One of the honorees this year was our very own Lion Mary Frances Gosnell. The award consists of a certificate – Lions just love to give out certificates, the Honor Roll pin and a small aqua acrylic square with the winners name and the honor roll emblem etched in it. Previous Honor Roll recipients from Damascus include Emerson Slacum (1993), Bob Newlin (2004), Buck Gladhill (2005) and Marcia Holpuch (2017).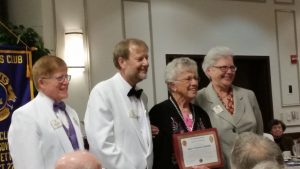 No sooner did she get back to her seat than was she called up to the front of the room again as the first Lion to be awarded the new Distinguished Service Award. She was clearly surprised. This award is the highest recognition given at the District level. It was formerly known as the Bull Thrower's Award. The new criteria for winning this award provides for a better opportunity to recognize outstanding service without governorship. We are honored to have her as a member and her name will forever be first on the historical plaque of honorees. Her award is a beautiful cut leaded crystal award etched with her name and recognition, a pin, and a certificate. We have only had one previous honoree, PDG J. Leonard Mullinix in 1975 when it was still known as the Bull Thrower's Award.
Only one more set of awards was left to be distributed. These were the three International President's Certificates of Appreciation that were brought by PID Robert Littlefield on behalf of
International President Dr. Naresh Aggarwal. We patiently listened to DG Carl start to read the reasons the person was selected for recognition, including the usual, Lion since…, loves to dip ice cream…, club president…, Leo advisor…, Zone Chair…, there's so many people in the district that fit those labels. Then he hit on a very unique item, a Centennial initiative to provide 100 pairs of eyeglasses for children and BINGO! As soon as it came out of his mouth, she knew he was talking about her – our very own Past President Barbara Barry was selected for this International recognition! Her award was a certificate and a pin from the International President. This is a big deal!!
Congratulations to our deserving honorees. They are a true reflection of the integrity and spirit of the Damascus Lions Club to which we all contribute. I wish you were there to share in the recognition because we all understand that no one does it alone. When one gets recognized we know it is due to the efforts of many. The power is in "We."
Lion Marcia Holpuch